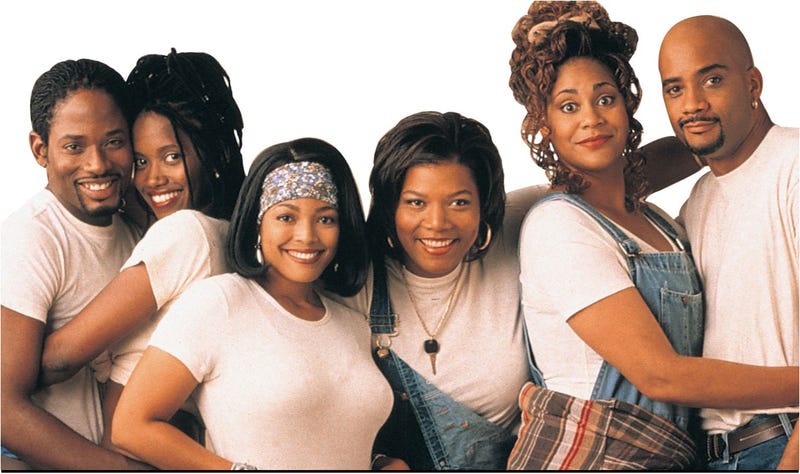 Every evening around 7 p.m., I look forward to tuning into 90's sitcom, 'Living Single' on Bounce TV and when I say I get my entire life, honey I mean it! Don't judge me! Four bomb, black women (Khadijah, Synclaire, Regine and Maxine) working, dating and cohabitating in New York City is just the black girl magic that this black girl needs!
From the theme song performed by Queen Latifah– "wit my home girls standing to my left and my right"– to the dancer straight breaking it down in the opening credits, I LIVE for the shenanigans of these four women and their two male companions, Kyle and Overton. I must admit though, watching this show as a twenty-something is way different than watching it as a child. It's BETTER! All of the things that went way over my head back then totally resonate with me now. Here's all the tea I've been catching while watching this show as an adult:
1. Khadijah is my spirit animal.
While I see a bit of myself in all the women on the show– Synclaire and her silliness, Regine with her fashion sense, Maxine with her witty remarks– I relate mostly to Khadijah, especially since I'm pursing a degree in Publishing. As the editor-in-chief of her very own magazine, Khadijah was the true definition of a #girlboss. She poured herself into her work, but that didn't stop her from being a great friend, nor did it keep the shorties away. There was always a list of fionne male suitors trying to sweep her off of her feet.
2. Whooo, Whooo, Whooo! Synclaire wasn't as dumb as she portrayed.
Synclaire is the sweet, nurturing, and always silly cousin of Khadijah. She worked as the receptionist/ office manager at the magazine and at any given moment could be seen spinning around in her chair or rearranging the troll doll on her desk. But don't let her playful demeanor fool you. Synclaire stepped it up when she needed to, like when she ran the magazine while Khadijah was sick. Sure she almost ran it into the ground, but in the end, she got the job done. Not to mention, she won over Overton's heart with her personality.
3. Max and Kyle played way too many dang on games!
These two definitely had a love/ hate thing going on. One minute they were hurling insults at each other, the next minute they were linking up for secret rendezvous! The on again, off again dynamic was working on my last nerve, y'all! I don't know who was worse; Kyle with his heir of arrogance or Maxine Shaw attorney at law aka Max the Maverick and her inability to express her true feelings! She know she wanted that sexual chocolate that was Kyle Barker!
This show is definitely sitcom gold, well at least in my book! I would be down for a reboot or even a movie on the silver screen– but with the original cast members only! Did you watch this show growing up? In what ways do you relate to the cast? How would you feel about a reboot? Let's chat!
– A Black Girl About Town